Just before Christmas Epic Games was showing off it's latest project, the Unreal Engine 3, running at full capacity on both the iPod Touch and iPhone 3GS. The demo showcased a level of Unreal Tournament, packed with everything you've come to love about the the PC and console versions. Epic claims that the iPod Touch/iPhone are only one piece of the mobile market they plan to tackle and that more news will be announced in a few days at the CES exhibit on January 7- 10th.
Although the demo only displayed a tiny portion of what the engine is capable of, the impact the Unreal Engine will have on the mobile market will be appreciable. The Unreal Engine is known for its quality graphics on high end consoles and in the years to come, as the iPhone and other mobile platforms make technological advances we can expect to see the same quality on mobile devices. Epic Games claims that nothing is finalized yet and they are still testing out the best control scheme for the iPhone including. but not limited to, an on screen d-pad and utilizing the tilt sensors.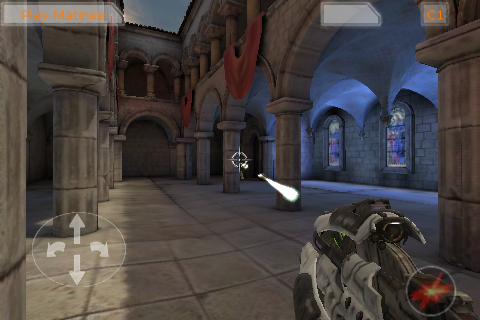 Getting the Unreal Engine primed and ready to be pimped out to developers is the first step to seeing full fledged ports of games like Gears of War on mobile platforms. Only time can tell when we'll actually get games using the Unreal Engine, but its a safe bet to assume that it's not as far off as we may think.
Stay tuned for Wirebot's CES coverage on January 7- 10th for updates and more juicy coverage on tomorrow's technology.